Heat-Kit
Gallery
Brick Oven
Page

Bookstore
Library
Masonry
Heater
Mall
Current
Projects
Contact
Search
Links
FAQ
Heat Kit Cleaning :
From: Stephen Bushway <sbushway(at)mac.com>
Subject: Heater Cleaning
Date: Mon, 22 Jan 2007
To: Norbert Senf <mheat(at)heatkit.com>

Norbert,

I got a call from someone who I built a Heat-kit heater for about 6 years ago, saying the heater/chimney wasn't working as usual. I went over, cleaned out the base channels, bench run and chimney.
I then took a mirror and looked up the channels and couldn't see anything but black. I took a long handled "noodle" brush that Copperfield sells and reached up and freed up a bunch of soot that seemed to have bridged across the top portion of the lowest channel sections. I looked at the wood they'd been burning and much of it was punky. And recently they'd been mixing in pine. They had been told (not by me) that "you can burn anything in a heater".

Best, Steve
---
The graphic, below, shows the location of a built-in constriction in the base channels. It is about 10 " up and, hopefully, somewhat
accessible via a cleanout. Sometimes, after a lot of use, you can get a buildup of soot and ash right there which can constrict the flow. The easiest way to clean it is with a "pellet brush", used for cleaning pellet stoves. It comes on a flexible fiberglass rod that can be bent around corners.

If there is a loss of draw in the heater, and increased smoking, this is the likeliest cause.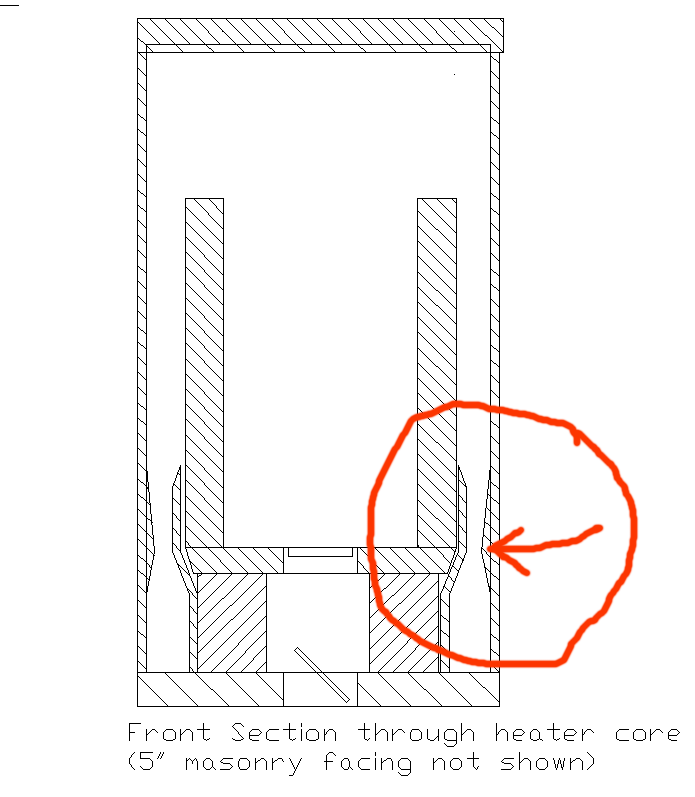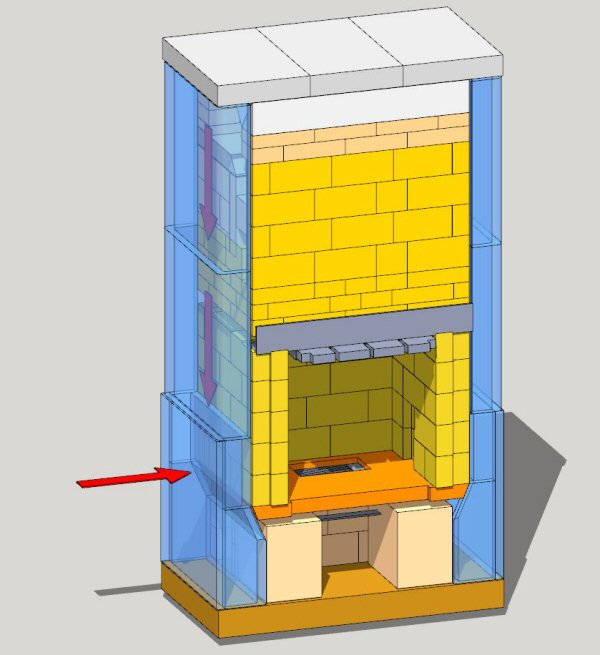 Steve Bushway added the following note on Jan 26/07:


Regarding brushing channels:
The trouble with the pellet brush is that it goes where it wants to,
not where you want it to. The noodle brush won't reach as high but
in this situation, allows one, because of the stiffness and "memory"
of the handle, and also the length of the bristles, you can
"windshield wipe" across the width of the channel.
Here's a report from a client from December 2009:

From: "Maurice Lambert"
To: "Norbert Senf" <mheat(at)heatkit.com>
Subject: Heater problems
Date: Mon, 14 Dec 2009

Hi Norbert,

Just a note to let you know how things turned out.

After installing the new windows and thoroughly cleaning the channels (and I can still do better ) I lit the thing........It immediately roared, no smoke, not fumes, just like new I was totally astounded what a difference that proper cleaning would have on the performance. I had forgotten how good it can be.

Thanks for your help and advice Norbert. I now look forward to the cold weather.

Wishing you all the best for the holiday season, and good health and prosperity for 2010.

Cheers !!

Maurice
---
This page last updated on June 14, 2017
This page was created on January 23, 2007

Heat-Kit
Gallery
Brick Oven
Page

Bookstore
Library
Masonry
Heater
Mall
Current
Projects
Contact
Search
Links
FAQ
Back to Masonry Stove Builders home page: