Lopez Labs Co-Operative
A JOINT VENTURE BETWEEN
Lopez Quarries
Masonry Stove Builders
Stovemaster
Solid Rock Masonry
Homestead Heat
Alaska Hearth Technologies
Boris Kukolj

Current Research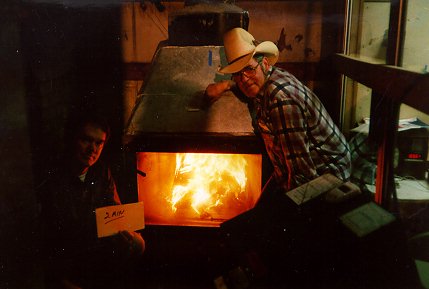 Jerry Frisch with his clean burning Frisch Rosin masonry fireplace system (Norbert Senf on the left,, holding "2 min." sign) (1994)
Lopez Labs was started at the Everett, Washington shop of Lopez Quarries/Masonry Heaters. Between 1992 and 1995 we tested a variety of masonry heaters for several weeks every spring. We currently maintain the largest masonry heater performance database in the United States or Canada. Lopez also participated with two other labs in a simultaneous field test series of masonry fireplaces at McNear Brick in California in 1995.
In 2004 we opened a second test facility at the Masonry Stove Builders shop here in Greermount, Quebec (90 minutes from Ottawa, Canada's capital.) We are building a long term performance database on how various operating factors affect specific heater models.
Alex Chernov opened a test facility at Stovemaster in 2009.
Homestead Heat, Solid Rock Masonry, Boris Kukolj and Alaska Hearth Technologies are in the process of setting up test facilities.
One goal of the co-operative venture is to establish common testing procedures and quality control protocols to allow comparison of data.
A number of papers have been published describing the research at Lopez Labs. These are available at Lopez Labs Archive
Current Research
Wood Stove Design Challenge 2013
2010 Test Series - January - February, 2010
Bell Experiments with a Contraflow Heater - March 2010
Masonry Heater Fuel Crib Repeatability Testing
Lopez Labs Conference - January 4 - 7, 2010
Recent Research
Evaluating a Testo 308 Digital Smoke Spot Meter - November 2009
Bell Construction and Testing Workshop - October 2009
Rocket-Bell Experiments - July 2009
Alaska Fireplace Retrofit Project - updated July 10/09
Condar dilution tunnel particulates data summary (2008-9, 67 runs)
Experimental Masonry Hydronic Heating Workshop - updated Dec 18/09
Masonry Heater Emissions Testing at Shawville, 2008
Burning Pellets in a Masonry Heater - updated Jan 30/09
Emissions Calibration Testing- Fairbanks, Alaska, 2007
Free Gas Movement - Shawville 2007
2006 - 2007 Contraflow Tests at Shawville
Technical Assessment of Hi-mass Masonry Heaters and Integrated Water Loop
Bell heater testing - Alex Chernov, 2007
Bell heater testing - Wildacres 2006
Bell heater testing - Toronto 2006
Fuel Crib Testing, February, 2005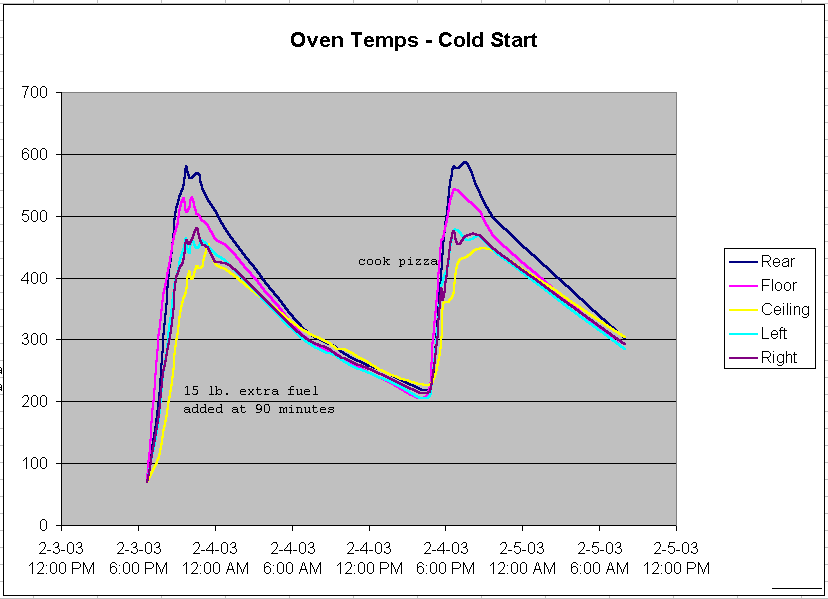 Heatkit white oven test, Feb. 3/03
Clearance to Combustibles Testing, MHA Annual Meeting, 2001
Clearance to Combustibles Testing, Shawville, April, 2000
Low Emissions Residential Cordwood Combustion in High Mass Appliances - Recent Research and Results
Norbert Senf
presented at Combustion Canada '96 Conference,
Ottawa, June 5 - 7, 1996
A Comparison of Fireplace Emissions Testing Methods
Norbert Senf
3 test methods were run simultaneously on open masonry fireplaces at McNear Brick in 1995.
(20 pages, 80Kb PDF file)
Very Low Emissions Cordwood Combustion in High Burn Rate Appliances - Early Results with Possible Implications
Norbert Senf
presented at the 88th Annual Meeting of the Air and Waste Management Association, San Antonio, 1995.
Air Requirements and Related Parameters for Masonry Heating Systems
Norbert Senf
prepared for The Research Division, Canada Mortgage and Housing Corporation, Ottawa, (1994)